News!
18th October 2002
The Unofficial KTM 495 site will be expanded to host the equally rare follower KTM500MX, 540MX and MXC models too. These are interesting, extremely powerful and rare bikes that already have caught some interest among vintagers.
---
9th October 2002
The Unofficial KTM 495 site is now hosted at www.mxbikes.com The work in keeping the Great White alive will continue. The webmaster is now: bhahn@mxbikes.com
25th July 2001
Carb's sorted. Front forks rebuilt. Now for some more power.... 83 head is on and ready to test. The rest of the parts manual is up and there's another review.
5th May 2001
I'm waiting on a new carb still.... damn postal strike... in the mean time I've added scans of the 495 parts manual. A big thanks to Giles for e-mailing me the scans. Click here to check them out.
30th Apr 2001
It turned out to be the woodruff key... It had split in two kicking out the timing. Still didn't explain the poor starting. I got a motoplat rewind and new coil because of a suspect looking spark. Still needed Quickstart to get it going.... so I checked the pilot jet for dirt. Nothing there. Pilot jet that is. A previous owner had lost it.... Which explains the poor starting and lack of tick-over!!!! Quickstart was acting as a fuel substitute to get it running and on to the main jet. New one on the way from Jim Aims and Go-Moto are sourcing some reed valves (the orginals have seen better days). I'm running out of things to fix... the engine, the gearbox, the ignition and now the carb and reeds have all been sorted. It had better run or I'm fitting pedals and going down-hill mountainbiking on it.
The parts page has been updated with the source of all the parts I've needed. Which is most of them.
18th Apr 2001
The engines rebuilt. It ran briefly and now won't start.... I've stopped using my ktm495.co.uk e-mail now, the ISP I use for the site is too much hassle. You can now get me on si@adrenalintrip.net
8th Mar 2001
Jeff's 495 is now on the site.
28th Feb 2001
The Dirt Rider reviews on the 1984 KTM is now up.
6th Feb 2001

I've now got copies of Cycle, Dirt Rider and Dirt Bike containing reviews to the 1984 KTM. Only the Dirt Bike article is up so far, but the others will follow soon...

And... picture's of Paul's 495 are now listed.
31st Jan 2001

The practice tracks section is now sourced from AdrenalinTrip.net so anyone can add tracks. If you want to include this list on your own site then just link to the URL below. Use frames like I have and it'll fit straight into your site. AdrenalinTrip.net is an open site, anyone can contribute, anyone can use the content. There's more than just MX Tracks on the site, so check it out and get involved.
http://www.adrenalintrip.net/xml/Motocross/feature.xml?xsl=/xsl/external.xsl&parms=CHANNEL:Motocross,TYPE:track
27th Jan 2001
The right main bearings have been sourced and the bottom end has been rebuilt!! Now I just need to get the holed case mag-welded and the engine will be as good as new. The bottom end rebuild came to over £400. So a total rebuild cost in the £700 region looks likely. 'Kin 'ell!! Well if I've spent that much I might as well get the dings out of the pipe and have the suspension rebuilt :-)
9th Jan 2001
Thanks to a mystery e-mail there's now a magazine cover shot of the 123.75 mph 495 and an ad. They're added in the How Fast? section.
14th December 2000
Thanks to Trupo for posting a definitive guide to identifying the year of manufacture for the 495 in the Forum. My 495 is still in bits... awaiting main bearings. They are on the way from Austria apparently. Still, hopefully it'll be up and running in the new year.
8th November 2000
Woooaa... I've had loads of people send me e-mails and commented in the forum on what model I might have. Thanks to everyone for that. It looks like the 84 came with USD forks and drums at the front on the MX version. I'm not convinced my bike isn't a monster hybrid of several years but if it isn't it looks like it must be a 84!!

I've found a local race series running two MX races and three enduros next year and the 495 is elligible. It's not big, it's not clever and it's not sensible, but the rotavator is getting raced next year...
4th November 2000
The mystery of what model I have exactly isn't getting much clearer. The head is stamped as an 82 and a KTM dealer has informed me that USD forks were a factory option on the 82 model. The 83 cross-country had a disk up front so it should be a 82 in that case but maybe not...

Here's what Mark Corell has to say... The 495 came standard with USD forks and drum brakes in 1984. I worked for a KTM dealer at that time. 1985 brought the front disk brake and watercooling. I have an '86 with disks at both ends. The 1984 KTM open class bikes were the first to have USD forks. The '84 250cc and smaller had conventioal forks.

By the way, your bike is an '84 model. The '82s had rear fenders with built in # plates and very small side panels. The swingarms were also different. '84 was the first year for the box section swingarm. Earlier models had the taper shaped swingarm with the funny shape.

Pictures of Mike Hollers 495 are now posted. Very tidy looking bike.

I actually have all the bits for the engine rebuild now!! It should be back together in the next couple of weeks. The parts alone come to £530 ($795). I have a feeling this is going to be an expensive toy...
27th October 2000
Holidays, weddings and trying to find a cheaper alternative than the official £250+ big-end kit have led to the KTM being in bits longer than I would have liked. Its rebuild is imminent and probably still will be in a month as the rush is off until the local practice track re-opens in the new year. I canít see much being added to the site until the new year either but I am involved with AdrenalinTrip.net at the moment so check it out.
4th September 2000
As suspected the piston has seen better days. The skirt under the small end bearing is cracked both sides and the rings are so worn that they completely disappear into the grooves. The small end is shot too. There's some play in the big end and the mains are a bit rough. But it's still on its original bore! So its getting treated to a new piston kit, small end, big end, mains, seals, gaskets and new electrics. Hopefully it will be back together by the 17th September so I can have a play at Devizes.
Two new track reviews have been added - Reading and Devizes - Devizes is the best track I've ever been too....
Patrick has sent some pictures of his 125/495 hybrid - I like the sound of the 2" shorter swing arm!!!
18th August 2000
The engine is out of the KTM at the moment so I can Tig up a cracked case, get it rebored, fit a new piston and replace the ignition. So I guess some engine internal photos are coming ;-)
The site has only been up for a week but I've already had a couple of intersting e-mails - Mike from Bill's Boneyard Utah has 3 of them and Patrick from Boston has a 495 engine in a 125 frame!! Its interesting that both say they're about to fit modern forks/brakes to them.
"BIKE HAULS ASS, OVER 100 MPH VIBARATES LIKE A SOB LOOSES NUTS AND BOLTS FASTER THAN I CAN PUT THEM BACK IN" Mike.
"Thank god that someone else is dumb enough to own one of these" Patrick.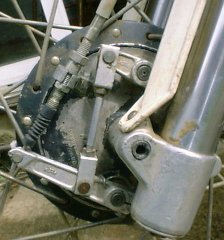 Thanks to Motor Cycle Memories I've now got some original reviews of the 495 - the best one can be found in Review section. But one thing thats obvious is that the front forks weren't USD standard (at least on the US model) - something Patrick confirmed in his e-mail. The forks on my bike match the drum brakes perfectly - there's no disk caliper mount thats been removed - they're matching components. I just got a front brake cable for the bike and its obviously the right one. This is weird. I don't remember USD forks in 82 and if they are later then how come they match the drum - nobody used drums when USDs came out... did they?? Anyone know? Drop me a mail or add to the forum if you do. Other dubious features are apparently the side-panels, swinging-arm and head (2 plugs on US models)!
I went to Coxford Down Raceway at the weekend. Good track - for more details see Tracks.